Recap of 2021 & Potential Hurdles In 2022
Posted by Ryan Coleman on Thursday, January 27, 2022 at 12:49 PM
By Ryan Coleman / January 27, 2022
Comment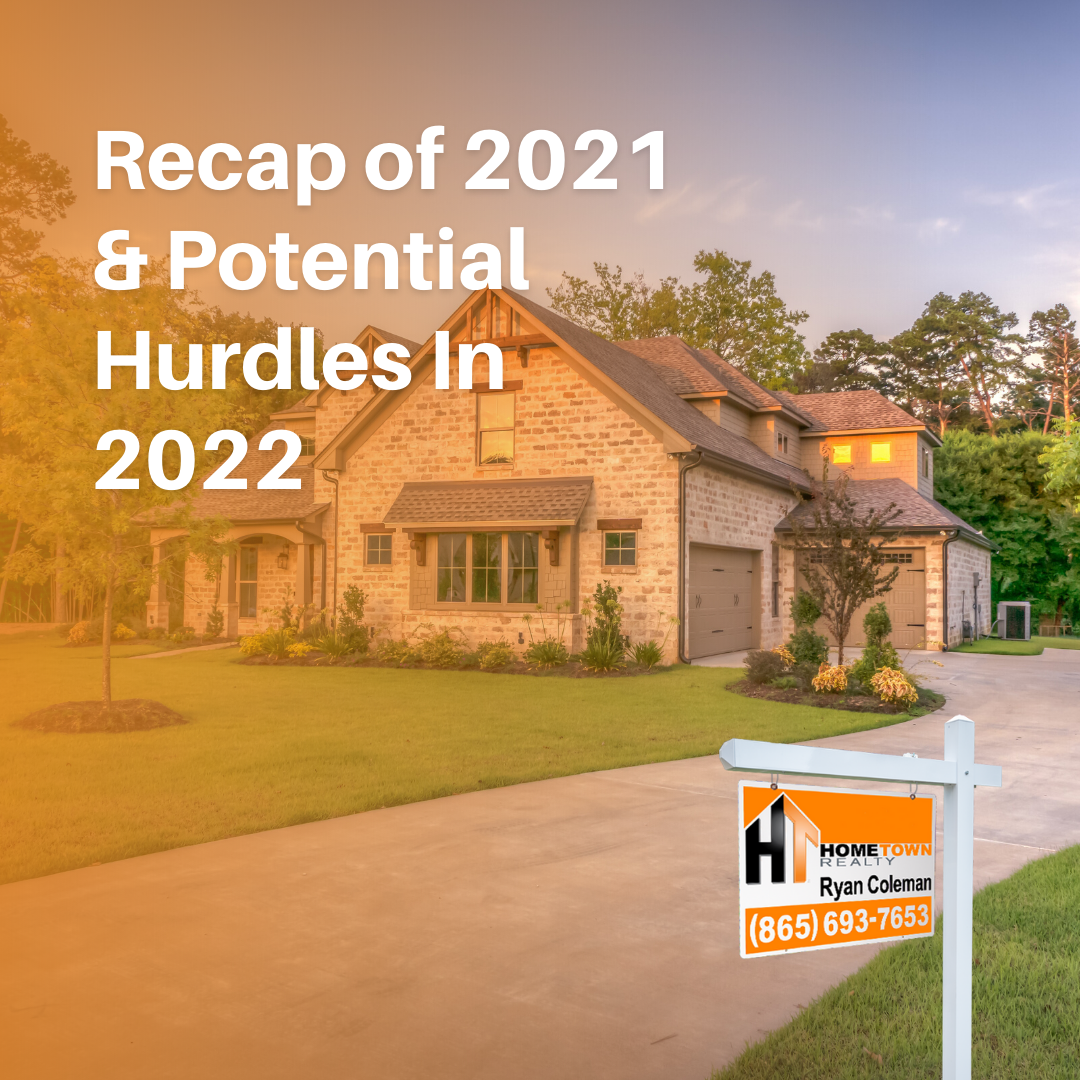 The real estate industry is a dynamic environment that is always changing and characterized by rotating patterns that assist in our understanding of the sector.
Identifying and comprehending impending market trends throughout the present economic climate might have a significant influence on the real estate industry.
The combination of diversification and the COVID-19 epidemic posed an unprecedented difficulty, forcing many commercial brokers to adapt their approaches and employ new technology in order to traverse these challenges. Here's a quick overview of Real Estate in 2021:
Remote Work
Even while some industry experts believe that working from home will have significant consequences for the real estate market, it is currently a reality that most realtors are compelled to accept.
Recently, it was discovered that roughly 68 percent of realtors preferred to work from home, which drove brokers to provide more flexible and scalable solutions to their clients.
However, rather than perceiving the concept of "remote work" as a negative, brokers can consider it as an opportunity to restructure their ideas and update their sales techniques in the future.
Reduced Need for Multi-Family Residences
As part of our study for our commercial real estate 2021 summary, we discovered that the multifamily market had a revenue decline in 2020, which was felt in each of the states studied.
What lies next for commercial industry executives is currently a mystery. Many industry analysts expect that the market will develop at a slow or non-existent rate in the foreseeable future.
Many developers gave additional flexibility and price reductions when the market was rebounding.
However, even in the most desirable urban regions, many sellers were either reluctant or unable to lower their prices, which is why leasing has become a more popular alternative to buying.
Multifamily construction does not happen quickly, and it might be difficult for developers to finish in a short period of time. The process can take many months.
The revival of COVID-19 in 2021 produced an uncertain environment in which, to the surprise of many, new multifamily complexes did not see as big of a slowdown as other commercial real estate investments.
Because of their choice for social separation, the vast majority of individuals have moved away from congested multifamily projects and have begun to review their living situations.
A big number of people, on the other hand, began to place their homes on the market in order to take advantage of the housing market boom and relocate away from their major residential communities.
Thousands of homeowners have made the transition from owning to renting, which is a more stable and inexpensive market that requires less maintenance and provides more bang for your money than buying.
Knoxville DMA Prices
East Tennessee Knoxville as a whole is one of the most conservative areas in the country is very moderately priced. The DMA Knoxville sold 22528 homes in 2021. More the single-family homes in Knoxville are up by 21%.
If we talk about the list price in the whole Knoxville area, then it is $339,439. However, the average sold price in the Knoxville area is $337,673. So, it doesn't leave much room for negotiators.
Moving forward to the average price per square foot, you must know that a lot of other factors must also taken into account. So, as an idea about the baseline price per square foot, it is calculated as $179 per foot.
You might also be thinking that what can be the average selling days. So, in simple words, it varies from market to market. Each market has different rates and demands.
The decline of Commercial Office Space
The demand for commercial office space has changed drastically over the past year, primarily as a result of the pandemic and social distancing restrictions.
Leasing 20,000 square feet of commercial office space with amenities such as gyms, huge conference rooms, and public cafeteria areas is a thing of the past, and is no longer considered a must for most businesses.
In today's unpredictable market environment, many organizations have chosen to go the "virtual" way, which removes the need for real office space while also lowering overhead expenses and increasing productivity.
The growth in the number of virtual employees has resulted in a fall in the demand for commercial office space of more than 25%. Commercial office space, on the other hand, is still in high demand, and this includes the desire for smaller traditional office space.
Despite the fact that the need for big commercial office space has reduced, the desire for home office space has surged dramatically, and as a result of the pandemic, this is a trend that is unlikely to wane.
Increasingly, when acquiring a new house, many homeowners are seeking homes that provide additional space for an office or workspace.
Numerous homeowners lost their employment and went through financial difficulties as a result of the COVID-19 epidemic and social distancing restrictions.
Rent control laws and other restrictions were enacted in the great majority of cities as a result of economic instability. These rules and regulations were intended to improve market stability and protect renters.
Housing Supply and Affordability
The following three points are universally acknowledged in this age of political polarization when it comes to housing: 1) there is a tremendous need for affordable housing; 2) there continues to be a sentiment of "Not in My Back Yard" mentality, and 3) there is an ongoing supply shortage of market-rate housing.
Years of underinvestment and underbuilding have resulted in a housing crisis in the United States that is more severe than originally anticipated and will require a dedicated, long-term national effort to alleviate.
National Association of Realtors® reports that the housing inventory in the United States is in critical condition, with a chronic scarcity of affordable and available houses to accommodate the nation's growing population. In short, inventory is still low.
Fannie Mae and Freddie Mac Stopping Investing Loans
Yep! You read it right. Fannie Mae and Freddie Mac are stopping investment loans in April. They are going to charge as much as 4.125% to the interest rate. Well, they are not really stopping investment property, but they are adding 4.125% to the rate.
So, for example, if you are at 3% rate, then you will be approx. at 7.125%. But you don't have to worry about it because Ryan Coleman got your back. All it needs is market knowledge, tools, and necessary resources.
Take Away for Buyers
Have a look at these stats discussed in the 2022 Real Estate Market analysis:
In the Knoxville area, the DMA sold 22,528 homes in 2021. How many of those homes.
The average list price in Knoxville DMA is 339,439. And the average sold price is 337,673.
The average price per square is 179 a foot.
Although there is the possibility of market adjustments in the near future, the experts continue to forecast that the spring 2022 homebuying season will see strong demand across the United States.
However, even in the face of rising interest rates and the likelihood of more purchasing competition from overseas investors, there will still be an abundance of alternatives for both buyers, as well as sellers, and the market will continue to move swiftly.
Real Estate With Ryan
Streaming Live Every Saturday at 11:00 AM & 1:00 PM