In Today's Knoxville Market, Is Now The Best Time to Start Your Home Search?
Posted by Ryan Coleman on Friday, August 26, 2022 at 4:32 PM
By Ryan Coleman / August 26, 2022
Comment
If you're thinking about buying a home in the East Tennessee area, you likely have a lot of factors on your mind. You're weighing your own needs against higher mortgage rates, the Knoxville home prices in today's market and more to try to decide if you want to jump into the market. While some buyers may wait things out, there's a reason serious buyers are making moves right now, and that's the growing number of homes for sale.
So far this year, in general, the East Tennessee housing inventory has been increasing and that's making the prospect of finding your dream home less difficult. While there are always reasons you could delay making a big decision, there are also always reasons to consider moving forward. And having a growing number of options for your home search may be exactly what you needed to feel more confident in making a move.
What's Causing Housing Inventory To Grow?
As new data comes out, we're getting an updated picture of why housing supply is increasing so much this year. As Bill McBride, Author of Calculated Risk, explains:
"We are seeing a significant change in inventory, but no pickup in new listings. Most of the increase in inventory so far has been due to softer demand – likely because of higher mortgage rates."
Basically, the inventory growth is primarily from homes staying on the market a bit longer (known as active listings). And that's happening because higher mortgage rates and home prices have helped moderate the peak frenzy of buyer demand.
The graph below uses data from realtor.com to show how much active listings have risen over the past five months as a result (shown in green):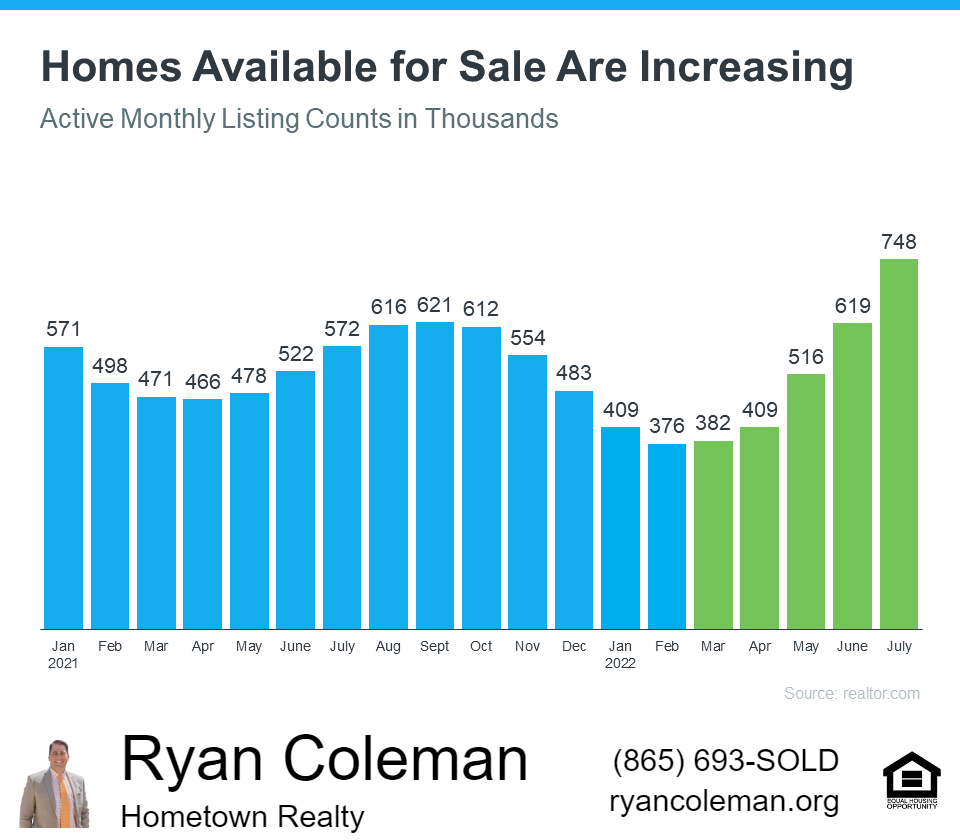 Why This Growth Is Good News for You
Regardless of the source, the increase in available housing supply is good for buyers. More housing supply actively for sale means you have more options as your search for your next home. A recent article from realtor.com explains just how significant the inventory growth has been and why it's good news for your plans to buy:
"Nationally, the inventory of homes actively for sale on a typical day in July increased by 30.7% over the past year, the largest increase in inventory in the data history and higher than last month's growth rate of 18.7% which was itself record-breaking.
This amounted to 176,000 more homes actively for sale on a typical day in July compared to the previous year and more choice for buyers who are still looking for a new home."
The growth this year is certainly good news for you, especially if you've had trouble finding a home that meets your needs. If you start your search today, those additional options should make it less difficult to find a home than it would have been over the past two years.
Bottom Line
If you're ready to jump into the market and take advantage of the increasing supply of homes hitting the Tennessee Housing Market, let's connect today. The opportunity in the Knoxville market is knocking, will you answer? Give your Hometown Experts a call so you have expert advice on your specific situation during today's market. 865-693-SOLD (7653)
In this week's episode, Ryan Coleman talks about the process of selling a home "As-Is". Whatever it looks like, whatever the condition is the seller will leave it like that and the new owner will have to fix/replace or just simply change anything that is needed. If you want to learn more about selling an "As-Is"home be sure to check out the new episode!
Join Ryan Coleman Broker/Owner of Hometown Realty and host of REWR every Saturday @ 11am on Talk Radio 92.3 / AM 760 WETR and at 1pm on News Talk 98.7
Be sure to download the Talk Radio and News Talk apps to listen on the go!
Talk Radio: https://apple.co/37q7lAu
News Talk: https://apple.co/3aHkXth

You can watch past live streams on other Social Media channels:
YouTube: https://bit.ly/3gkhS3U
Facebook: https://bit.ly/3l67kJd
Soundcloud: https://bit.ly/32bvkC9
Apple Podcast: https://apple.co/3j7aomn
Google Podcast: https://bit.ly/3gcSXiE
Hometown Realty is a Proud Sponsor of the Tennessee Volunteers:
Did you know we give away tickets for all of the home Tennessee Volunteer football games? This season there are 7 games at Neyland Stadium and we want to send you and a friend to everyone! If you are interested in entering click the link below! This is completely free, we want to give back to our awesome clients & potential clients!
Be sure to follow us on social media to stay up to date with our giveaways! We have some exclusive autographed stuff you are not going to want to miss! This week we are giving away a Hendon Hooker autographed Nike Football + Two tickets to the opening game of the season against Ball State University. All you have to do to enter is follow/like/comment on our post on our social media!
Follow us on social media!
Ryan Coleman Group on Facebook
Ryan Coleman Hometown Realty on Youtube!