How to Buy a House in Knoxville Right Now
Posted by Ryan Coleman on Wednesday, February 10, 2021 at 11:40 AM
By Ryan Coleman / February 10, 2021
Comment
Buying a home in today's real estate market is getting tougher and tougher. Were not even into the spring selling season yet and buyers are competing hand over fist for individual properties. These aren't even hot properties; these are properties that probably need a little bit of work, selling as is, or maybe even overpriced. But, buyers are scrambling and competing with each other for these homes. A lot of the issue stems from sellers that are scared to sell because they know they will have to turn around and buy. Whether you're buying in the city or across the city or state lines, the situation is practically the same no matter where you go across the country. So how can buyers get the home they really want?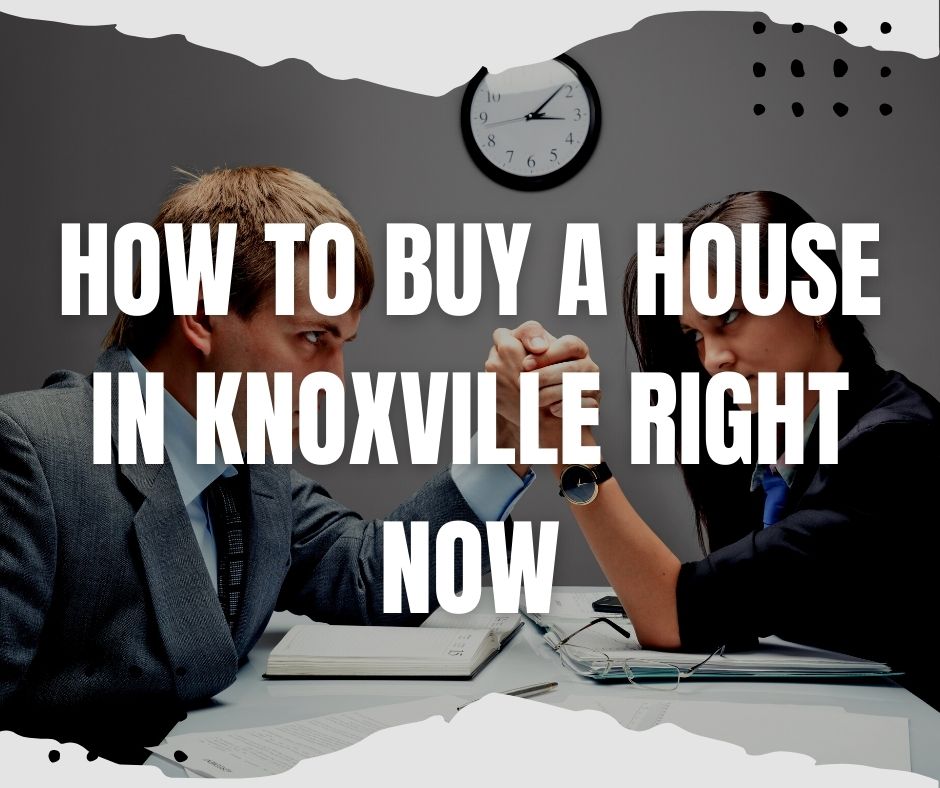 We want all of our buyers to feel satisfied with their purchase, not settle, feel confident, and not give away every penny they have, but how can you do that? How can you buy a house in Knoxville right now?
We want to give you a few tips on how to buy a home in today's seller's market.
Have a dedicated agent.
There are many reasons to use a buyer's agent and none come close to the main reason right now. You need someone on your behalf working on your side, negotiating for your terms, your price, and doing all the heavy lifting for you. A buyer's agent really works for you and if you're trying to go it alone by simply negotiating with the seller's listing agent on your own, you're going to get eaten alive. This is not the market to attempt it alone. You need someone that not only knows the market but is well-versed in negotiation, has literally won the bidding war for most of their clients, and understands individual neighborhoods and micro-markets. Using our dedicated agents means you'll get the negotiation you need, letting us do all of the hard work for you.
Be as financially prepared as possible.
Most sellers are not going to entertain offers that are not financially prepared. You'll need a letter from your lender stating that you are already approved for the mortgage all the way through the underwriting process if possible. Make your down payment and your earnest money deposit as high as you can. While this is not the only determining factor, it definitely plays a part in how serious sellers consider you. The more financially prepared you can be and you have proof of income and funds, the more your offer will naturally rise to the top.
Get to know the seller on an emotional level.
Why is the seller selling? What is their motivation? If you can appeal to the seller's emotional need, you'll stand out from the crowd. If your buyer's agent can get the listing agent to talk about the motivations of the seller, you can appeal to the seller on their emotional level. Simply agreeing to a lot of the seller's terms can get your offer push to the top of the pile.
Related: 5 Tips on Winning a Bidding War
Be careful about offering more money.
While more money naturally seems like the best way to get your offer accepted, it's not the only factor. Terms really matter and this is where learning the seller's emotional status is important as well. They might get a full price but if the terms are not adequate to what the sellers looking for, they're going to reject the offer. Plus, if you offer more money the home will probably need to appraise for the inflated amount. If it does not, you'll need to make up the difference, which lenders will need to make sure that you have the capability for before making an offer. If you're ready to go that route, discuss it with your buyer's agent before making the offer.
It is a tough real estate market out there and we have plenty more buyers than sellers, but that doesn't mean that you can't get the right home. Be diligent, don't lose hope, be ready to move fast, and have all of your ducks in a row ahead of time. When you're ready to make an offer or if you're just starting the process, contact our office below at any time. We can put you in touch with lenders in the area, get you preapproved, and get offers on the table for your next home today.