Do I Need to Fix My Home Before Selling in a Seller's Market?
Posted by Ryan Coleman on Monday, February 15, 2021 at 8:56 AM
By Ryan Coleman / February 15, 2021
Comment
If you've been looking to sell your home for a while, you may be extra incentivized by the possibilities before you in 2021. For the past few years, home prices have steadily increased; and the lack of inventory, coupled with the increase in demand, have made for quite the seller's market.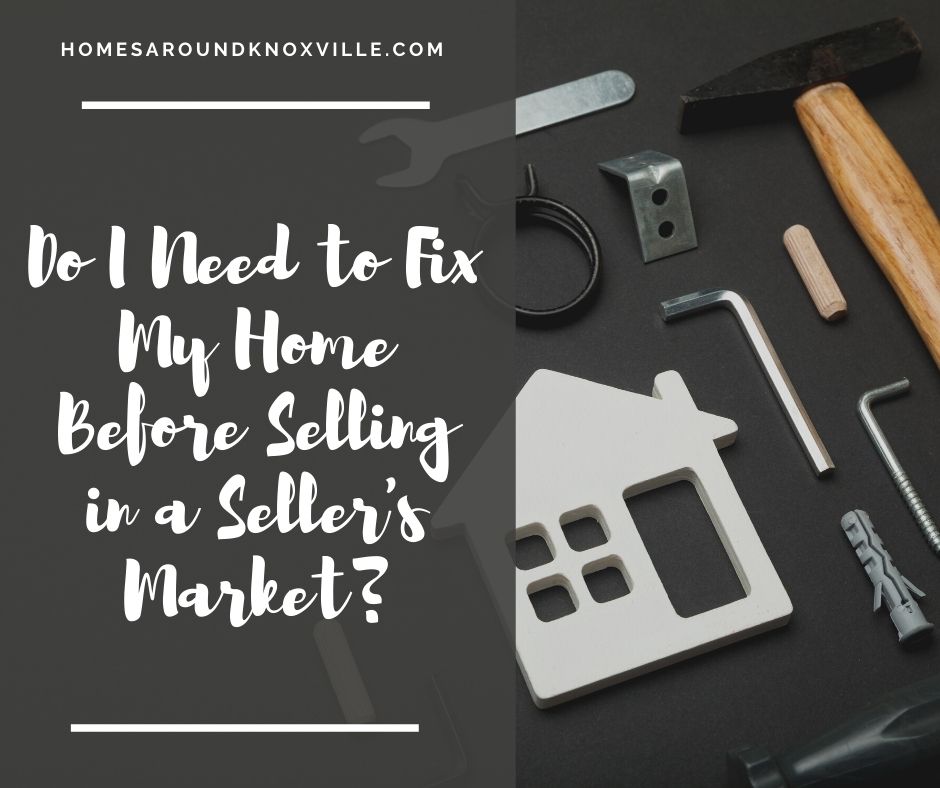 As you begin to look around your home, you notice a number of areas that need either updated for fixed. Perhaps you've found a few holes in the walls around the home or noticed that the plumbing or electrical system needs updated. Whatever the issue may be, you instinctively may want to immediately begin renovating your home to increase the chances of selling it. Is that necessary, however?
There are a number of things to consider when it comes to how much should be spent on maintenance repairs and overall upgrades to the home – particularly when it comes to selling in a seller's market. Here are a few ideas to keep in mind as you make the important decisions headed your way:
Make a comprehensive list
The first thing you should do is take a tour around your own home and write down areas of concern that may need addressing before selling the home. Things like stained carpets, cracked electrical outlets, cracks in the walls or ceilings, worn down cabinets and doors, a worn-out roof, and even old furniture should be noted. Once this has been done, begin to prioritize the most pressing to least pressing items.
Consider the market
This takes a little extra time and research. To get the most return on your investment, look at the market value in your neighborhood and consider if it's worth spending the extra money to only fall short in the long run with selling your home. Depending on how bad the issues are around your home, you may even want to consider selling it low enough to attract contractors and house flippers as well. Whatever the case may be, make sure you aren't spending more than is necessary to get a good deal on your home.
More: How to Prepare Your Home for Sale in 2021
Be wary of selling a fixer-upper
You may think advertising your home as a fixer-upper will still bring in a healthy number of buyers. Keep in mind, however, that when buyers think of fixer-uppers, they often may think of homes that just need a few cosmetic updates rather than a complete overhaul. That's not to say the home will be without any interested buyers; but oftentimes, the ones looking for a serious fixer-upper are those who can't afford a more expensive home or those who see it as an opportunity to make a few extra dollars by fixing it on their own.
Take care of the cosmetics
Often times the best approach is to simply take care of the simpler, more cosmetic upgrades. Repainting the walls with a more neutral color, updating some of the furniture, repairing any broken or cracked windows, and replacing any stained carpet can prove quite effective in steering a prospective home buyer in your direction.
Related: 3 Things that Keep a Home From Selling
At the end of the day, you have to decide what's financially feasible for you and your family and what will make the selling process easier in the long run. Taking the time to tend to a few repairs is often a good idea, but a seller's market may make a home buyer less picky about getting certain repairs done right away.
For more information on your home's value and what you could get for your home if you sold it today, fill out the form below for more information. We are your Knoxville real estate team and understand the market and how to sell homes.
What is Your Home Worth Today?