Did Your Knoxville Dream Home Just Come on the Market?
Posted by Ryan Coleman on Monday, March 21, 2022 at 1:59 PM
By Ryan Coleman / March 21, 2022
Comment
For the first time in a long time, the number of newly listed homes is beginning to rise. In their latest monthly release, realtor.com reveals the number of existing homes entering the market has increased for two months in a row (this comes after six months of declines). Here's a graph showing the monthly new listings going back to January of last year. The green bars indicate the first gains since June.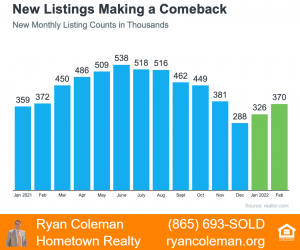 However, buying demand is still outpacing housing supply.
Though the increase in homes coming to the market is great news for prospective homebuyers, the number of buyers is still outpacing the number of homes available for sale. As realtor.com explains in their latest report:
"During the final two weeks of the month, more new sellers entered the market than during the same time last year. . . . However, with 5.8 million new homes missing from the market and millions of millennials at first-time buying ages, housing supply faces a long road to catching up with demand."
In fact, according to the latest ShowingTime Showing Index, which tracks the average number of appointments received on active listings during the month, buyer demand was greater this January than any other January in the last five years (see graph below):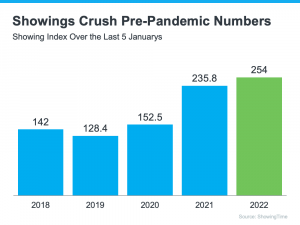 This prompted ShowingTime to say:
"The latest data from ShowingTime . . . shows a surge in home buyer demand in January. . . . This enormous activity occurred in a month when buyer activity typically slows and followed a historic 2021, where buyer demand across the country was extraordinarily strong."
What does that mean for you?
Basically, as homes come to the market, they are quickly being purchased by eagerly awaiting buyers. So even though the number of newly listed homes is increasing, the number of active listings is still shrinking every month because buyers are purchasing homes almost as soon as they come up for sale. That means listings are coming on and off the market so fast that they don't carry over to be counted in the active listing numbers the following month. Here's a graph showing the number of active listings each month since last January using data released by realtor.com: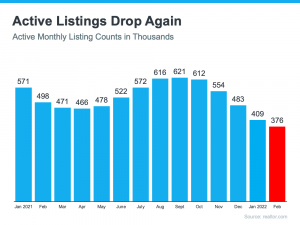 This graph shows that the number of active listings has decreased for each of the last five months even though the number of newly listed homes has increased over the last two months.
Bottom Line
Whether you're looking to upgrade to a home that will better suit your lifestyle or looking to purchase your first house, let's connect so you can stay updated on what's happening in your area. And be prepared to move immediately if a home fitting your needs hits the market. Your dream home may be one of those new listings that just became available, but if you don't act quickly, it could be gone tomorrow.
Let Us Help You!
Are you looking to buy or sell a home in Knoxville, Tennessee? Please don't hesitate to reach out to Ryan Coleman and our team at Hometown Realty as a trusted source for up-to-date real estate information in the East Tennessee area!
865-693-SOLD

Real Estate With Ryan
In this week's episode, Ryan talks about the process of moving from one state to another! This is something Ryan has first-hand experience on so you're not going to want to miss this information.
Join Ryan Coleman Broker/Owner of Hometown Realty and host of REWR every Saturday @ 11am on Talk Radio 92.3 / AM 760 WETR and at 1pm on News Talk 98.7
Be sure to download the Talk Radio and News Talk apps to listen on the go!
Talk Radio: https://apple.co/37q7lAu
News Talk: https://apple.co/3aHkXth
⁠
You can watch past live streams on other Social Media channels:⁠
YouTube: https://bit.ly/3gkhS3U
Facebook: https://bit.ly/3l67kJd
Soundcloud: https://bit.ly/32bvkC9
Apple Podcast: https://apple.co/3j7aomn
Google Podcast: https://bit.ly/3gcSXiE
Did you know we give away tickets for all of the home Tennessee Volunteer games? If you are interested in entering click the link below! Completely free, we want to give back to our awesome clients & potential clients!
https://ryancoleman.org/vol-ticket-giveaway/