Buying and Selling Simultaneously - and How to Do it Right
Posted by Ryan Coleman on Tuesday, March 2, 2021 at 11:06 AM
By Ryan Coleman / March 2, 2021
Comment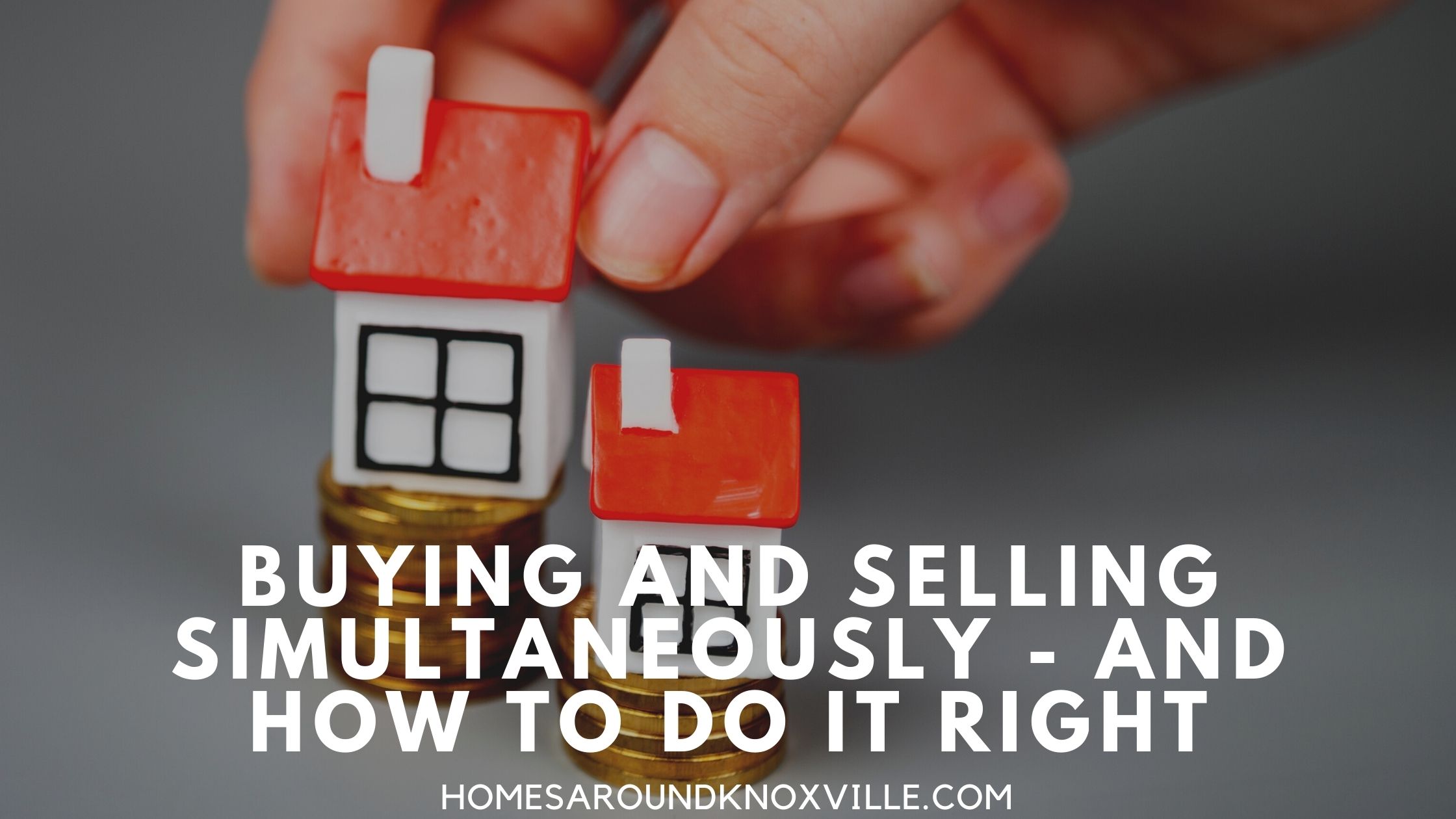 This is probably one of the most stressful situations apart from having a baby, getting married or getting a divorce; buying and selling real estate at the same time.
This is not easy nor stress-free but preparing yourself ahead of time is crucial to making it as stress-free as possible. But this scenario is very common and many people do it. Just about anyone that has owned a house and bought another one has dealt with this issue. So how can you prepare yourself for such an occasion?
First, understand the buying and selling is a huge undertaking. There is paperwork, time frames, deadline, and research, and it can all be stressful. It's important to know the timeline and set some realistic expectations to buying and selling at the same time. Chances are, you're not going to close on both houses the exact same day so you need to plan and prepare for those simultaneous closings within a few days of each other and what can happen if closings fall through or if they are not close to each other.
It would be ideal if everything fell into place exactly at the right time but that's probably not going to happen. If it does, count your blessings; hope for the best but expect the worst and you'll probably fall somewhere in between.
There are so many different factors when it comes to buying and selling, so many variables and a lot of people involved. Not only do you have the buyers of your current house but you have the sellers of the one you are going to buy, real estate agents on all sides, escrow, lenders, appraisals and inspections. Coordinating these factors so that it works for all can be quite challenging.
We can line up dates as closely as possible but, chances are you'll have to focus on either buying or selling first and there are benefits to each.
As a first-time buyer, there wasn't the risk of carrying another mortgage and you didn't have to worry about selling an existing home. You were probably renting and planned your sale around the time your lease was due or you may have paid a little bit if you broke a lease to move in early. This is quite different than selling a house that already has an existing mortgage and buying another one with an additional mortgage.
In an ideal world, it would be easier to find a house that you want, move-in, and then think about selling your existing home, but for most people, that's completely unrealistic. You'll be carrying two mortgages and it will cost significantly more. This is simply out of the question for most people.
So, how do we deal with the fact that we need to buy a house and sell one at the same time?
Before you do anything, you want to find a real estate agent that can handle both deals if you're planning on buying and selling within the same area. This is usually the easiest as you can have one real estate agent to help you facilitate the sale of your current property and the same agent to help you find and purchase a home. This is a little bit more difficult if you're moving out of state or out of the region in which your current real estate agent cannot work or is not licensed.
Track down the real estate agent or agents that you feel comfortable with, have a good sense of the current market, have a lot of experience, and are very familiar with buying and selling simultaneously. Feel free to interview them, talk about their experiences and how often they do this.
This is not something for an amateur real estate agent, so as much as you might want to give your brother's, cousin's, wife a chance in the real estate industry, this is a big transaction and should be handled by a qualified, experienced real estate agent or broker.
It's also important to understand the current market. Where are you going to buy? Are you planning on buying across town, in another county, another state or maybe even another country? You'll need to find out how the market is performing in the area in which you want to buy. If it's a hot buyer's market, this might be a great time to consider looking at homes first. If it's a seller's market, you'll have tough competition and it may be difficult to find a house, make an offer and have it accepted.
If you're buying and selling within the same County or region, it might be a little bit easier to gauge the market.
Do a little bit of research, talk to real estate agents, mortgage advisors, and others in the real estate industry about the state of the market both where you live now and where you want to buy.
In addition to talking to a real estate agent, you want to talk to your lender. Just as you shop around for the best agent for this job, you want to do the same for your lender. Talk to your lender about the current state of your mortgage, how much you owe, how much you would like out of the sale of the property, how much equity you have and how much you'd like to put down on another home. A lot of these numbers are just floating around in space so putting them down in black and white gives you a clear sense of how much home you can afford and the profit you make on the sale of your existing home.
Simply understanding these factors and teaming up with good real estate partners will make things much clearer and give you a better sense of direction throughout the entire process.
Advantages and disadvantages of buying first.
This happens probably more than the other way around because homeowners are not actively looking for a house but perhaps they have found one either online or in the newspaper that they simply fall in love with. They want that house and now they are scrambling to try to sell their existing home. If you buy a home before selling your old one it will give you more time to move but again, you may be dealing with two mortgages, which is financially impossible for a lot of people. Your income must support both mortgage payments during that time. If it's possible to do so, it might be a better option until you can prepare the house for sale. It might be a little bit strenuous for a while but eventually, those funds will free up when you sell the property.
However, a lot of people need the funds from the sale of their house to put money down on the next house. Another option for this scenario is renting your house out until it sells so that you can at least pay the mortgage while moving into your new home. There's also the option of a rent-back agreement. This is where you would negotiate with lenders and buyers to be able to remain in the property for a maximum of 60 to 90 days. This could be often used in exchange for lowering your selling price or rent paid to the buyers. This gives homeowners additional time to look for a house.
Another option would be a contract contingency. Buyers can request that their new home purchase be dependent on the sale of their old home. You would put in a contingent offer on the home of your choice and if the homeowner accepts it, you would move towards selling your house as quickly as possible. The drawback is that the seller of the house you want to buy can still leave the listing as active, excepting other offers that might come in and rejecting your contingent offer. This is high risk but it is common, so it might be something to consider.
Another option would be a bridge loan. Bridge loans allow homeowners to own two homes simultaneously if you can't make the down payment on the next home. This works if you plan to sell your home first and then use the proceeds to buy the second home. It's a short-term loan that is repaid upon the sale of your original house.
Related: Do you need to fix your home before selling in a seller's market?
Advantages and disadvantages of selling first.
This scenario usually takes place before you have found another house. Perhaps the market is really good in your area and you know you can get a good profit from the sale of your house. Perhaps you've been considering selling for some time and now the timing and the market work well in your favor.
It's going to depend on your research and the market conditions in the area you're going to buy. If you're buying in the same area understand that because the market is good for sellers, it may not be as good for buyers. You may need to pay more for the house now then another time of the year where it might be a buyer's market.
For this scenario to work it's important to prepare your home for sale, list the home and then start looking at properties. You never know when you're going to get an offer so it's important to have some plan in place when you do. You might consider looking at properties as soon as you get an offer and then extend the closing date out beyond 30 days or even longer, to give you a chance to find a home. You can always ask for the closing of your new home to be flexible up to a few weeks later than the standard 30 to 45 days. Sellers of your new home may want more earnest money because it is a higher risk for them to extend the closing date due to all the unknowns.
Some serious points to remember when buying and selling simultaneously.
Do not be controlled by fear. This is a very large purchase and sale and a very big decision for you and your family. If you choose to sell first, get an offer right away, talk to your real estate agent about the best way to proceed with the closing date. You don't want to rush into another home that you really don't love. The whole idea is to find a home that may offer a better setup than what you have now. By letting fear control, you could rush into a transaction or decision that you're not happy with six months down the line.
Take a breath. Anything can stress you out if you let it. By letting your real estate agent to a lot of the negotiations, planning, prep work and paperwork, you can go along for the ride and try to stay as unemotional as possible. Tell your real estate agent what you'd like to do and talk to your lender about what you can do. Those could be the same things or they could be different. Understanding your limitations, all the figures in black and white, and letting your lender and real estate agent work together as a team to get the job done, will make the entire process much easier.
Related: Tips to Save Energy and Add Value to Your Home
Understand that you probably have options when it comes to the loan, closing dates and timelines. Stay in communication with the other half of the parties. Remember, you're going to be dealing with other buyers and other sellers and the more communication everyone has the better informed all parties are.
If you're planning on selling and buying in the Knoxville real estate market, it helps to have the same team conduct the entire transaction if possible. Give us a call anytime for information and how to get the process started. Everyone's situation is different so you're direction may be different than someone else's. We want to help make the transition easy. Call us today!