Are Home Prices Going To Continue To Rise?
Posted by Ryan Coleman on Tuesday, March 8, 2022 at 4:22 PM
By Ryan Coleman / March 8, 2022
Comment
Many analysts projected home price appreciation would slow dramatically in the fall of 2021 and then continue to soften throughout 2022. So far, that hasn't happened. The major price indices are all revealing ongoing double-digit price appreciation. Here's a look at their reports on year-over-year price appreciation for December:
Federal Housing Finance Agency (FHFA): 17.6%
S&P Case-Shiller: 18.8%
CoreLogic: 18.5%
To show that they're not seeing signs of softening, here's a graph that gives the progression of all three indices for each month of 2021.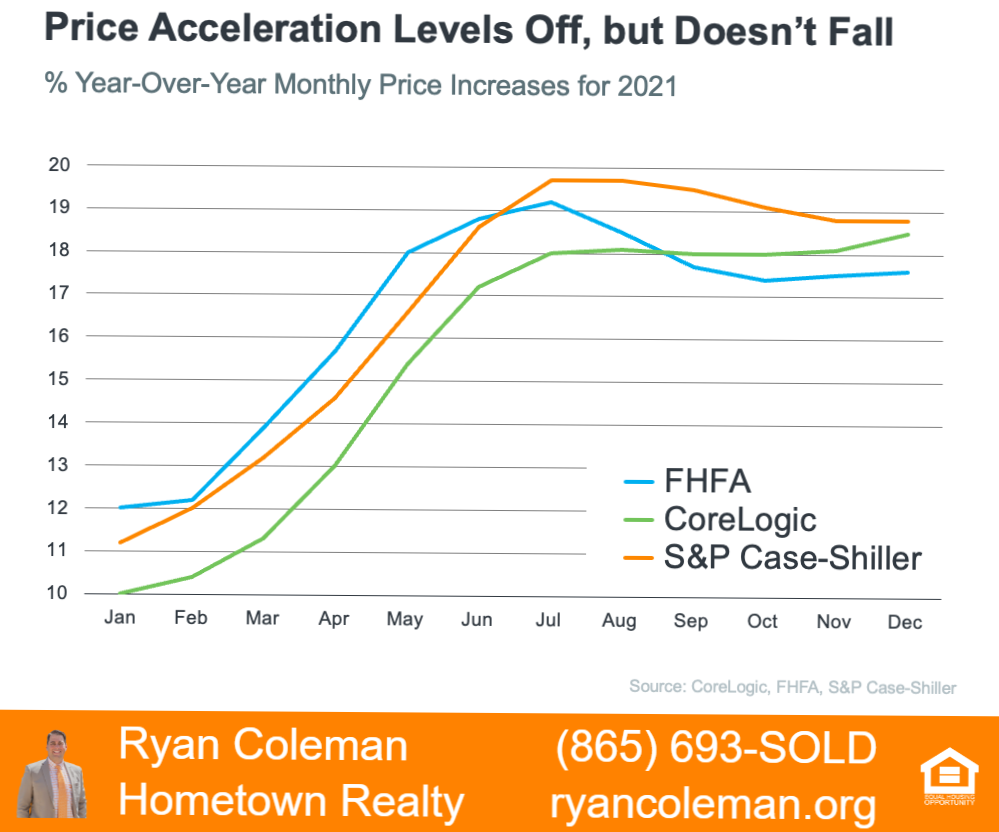 As the graph above reveals, last year, home price appreciation accelerated dramatically from January to July according to all three indices. Then, it began to decelerate in August when prices appreciated at a slower pace, but it didn't decline. Many thought that would be the beginning of a rapid slowdown in the level of home price appreciation, but as the data shows, that wasn't the case. Instead, prices began to level off for a few months before two of the three indices saw appreciation re-accelerate again in December.
To clarify, deceleration is not the same as depreciation. Acceleration means prices rise at a greater year-over-year pace than the previous month. Deceleration means home values continue to rise but at a slower pace of year-over-year appreciation. Depreciation means prices drop below current values. No one is forecasting that to happen.
In fact, the FHFA revealed that price appreciation accelerated in December in six of the nine regions it tracks. Case Shiller showed that appreciation accelerated in 15 of the 20 metros they report on. As Selma Hepp, Deputy Chief Economist at CoreLogic, explains:
"After some signs of slowing home price growth . . . monthly price growth re-accelerated again, indicating home buyers have not yet thrown in the towel."
What Does This Mean for You?
Whether you're a first-time purchaser or someone looking to sell your current house and buy a home that better fits your needs, waiting to decide what to do will cost you in two ways:
Mortgage rates are forecast to rise this year.
Home prices should continue to appreciate at double-digit levels for some time.
If you wait, rising mortgage rates and high home price appreciation will have a dramatic impact on your monthly mortgage payment.
Bottom Line
Maybe the best thing to do is listen to the advice of Len Kiefer, Deputy Chief Economist at Freddie Mac:
"If you're thinking about waiting until next year and that maybe rates are higher, but you'll get a deal on prices – well that's risky. It may be more advantageous to purchase this year relative to waiting until 2023 at this time."
Let Us Help You!
Are you looking to buy or sell a home in Knoxville, Tennessee? Please don't hesitate to reach out to Ryan Coleman and our team at Hometown Realty as a trusted source for up-to-date real estate information in the East Tennessee area!
865-693-SOLD

Real Estate With Ryan
In last week's episode of Real Estate with Ryan, Ryan covers some important information regarding the investment cabin market in the Gatlinburg, Sevierville & Pigeon Forge area! ⛰️
? Join Ryan Coleman Broker/Owner of Hometown Realty and host of REWR every Saturday @ 11am on Talk Radio 92.3 / AM 760 WETR and at 1pm on News Talk 98.7 ?⁠
Be sure to download the Talk Radio and News Talk apps to listen on the go!
Talk Radio: https://apple.co/37q7lAu
News Talk: https://apple.co/3aHkXth
⁠
You can watch past live streams on other Social Media channels:⁠
YouTube: https://bit.ly/3gkhS3U
Facebook: https://bit.ly/3l67kJd
Soundcloud: https://bit.ly/32bvkC9
Apple Podcast: https://apple.co/3j7aomn
Google Podcast: https://bit.ly/3gcSXiE
Did you know we give away tickets for all of the home Tennessee Volunteer games? If you are interested in entering click the link below! Completely free, we want to give back to our awesome clients & potential clients!