6 Easy Ways to Make Your Home Appealing to Buyers
Posted by Ryan Coleman on Monday, March 8, 2021 at 11:37 AM
By Ryan Coleman / March 8, 2021
Comment
When selling a home we always want to appeal to the majority of homebuyers. You want the best chance of attracting a good variety of buyers and of course, we always hope to have an offer on the table in as short amount of time as possible. If you're looking at selling or perhaps you've been on the market for some time and you're not sure you're attracting the right buyer, here are some easy ways to make your home more appealing to today's homebuyers.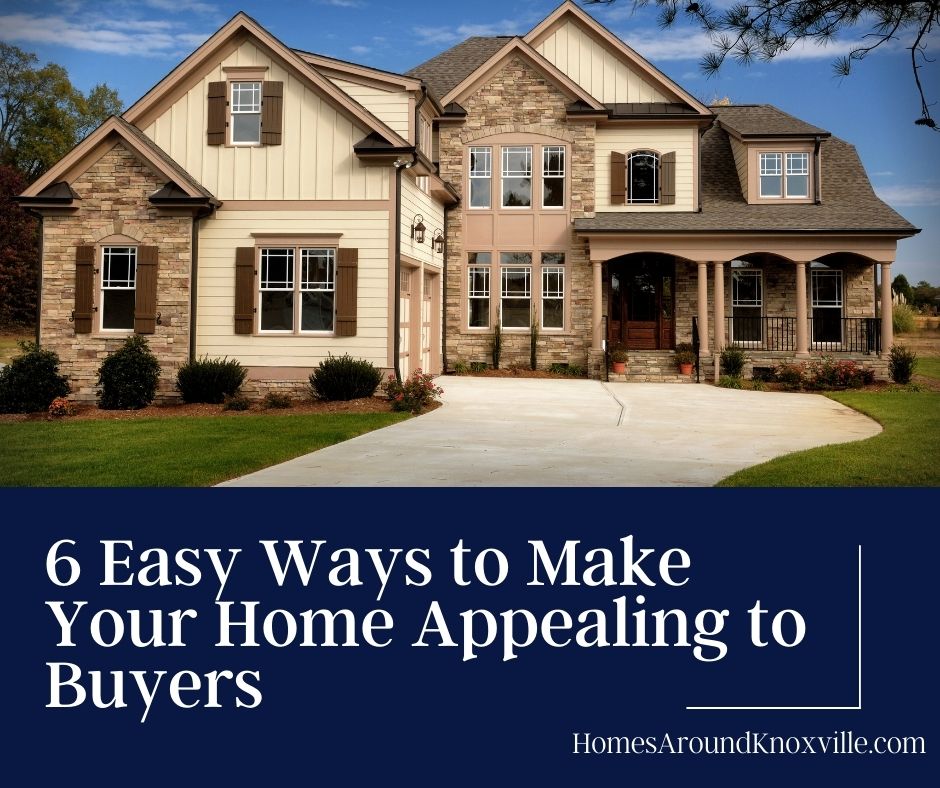 #1. Make sure all the little things are taken care of.
What you may have passed 100 times a day without noticing a homebuyer would notice in a heartbeat. That ragged doorjamb, squeaky door or dirty window track will stand out like a sore thumb. Anything small that you've never taken care of needs to be addressed before listing the property. Leaky faucets, sticky doors, gouges or holes in the walls, and mismatched patch jobs will all need to be addressed.
#2. Remove half of the items from the house.
Go through closets, cupboards, drawers, pantries, and any storage places in your house and remove and pack half of the items. You'll probably have to pack them soon anyway and by doing this you'll show potential homebuyers that the house has plenty of space to grow. Decluttering and removing items can really make the home stand out.
#3. Keep it bright and open.
Anytime you have a showing make sure all the windows are open and that the windows are clean, lights are turned on and there is no dark place in the house. Bright, clean, organized, and open rooms really help sell a house.
#4. Remove all undesirable odors.
This is another one of those things that we can become blind to if we live in the house for any length of time. Pets smells, litter boxes, smoking, musty or mildew smell, dirty clothes etc... can all be very pungent to potential buyers. Have a trusted friend walk through your house using their nose to guide them. If they notice an unwanted smell, your buyers will too. Remove all pets and signs of pets when you show your home if possible.
More: Are Online Listings the Way to Go?
#5. Increase your curb appeal.
Buyers will typically see a picture of the outside of the home before the inside and you don't want them stopping there. You want to draw them in by offering an attractive curb appeal from that very first photo. Remove any clutter from the home's exterior, touch up paint on the trim and the front door, and adding plants, greenery or other appropriate landscaping that will really make your home pop. New mulch and plans of various colors, sizes, and textures can all add to great curb appeal.
#6. Listen and believe your real estate agent.
I want your home to sell just as much as you do but I will be honest about things that need to be corrected, fixed or changed. If you want the very most from the sale of your home listen to your real estate agent and take their honest advice about things to get rid of, clean up or change.
Related: 2 Big Mistakes When Selling Your Home
If you're ready to get started or would like a fresh set of eyes on your home to find out what you need to do to make your home more attractive to potential buyers contact our office today. We'd love to offer a glimpse into what your home is currently worth and some tips on how to get the very most from the sale of your home. We are your Knoxville real estate professionals.
Fill out the FREE Home Valuation Below
Search Cities to Get a Good Idea of the Market