16 Tips For Preparing Your House to Sell In The Spring Market
Posted by Ryan Coleman on Tuesday, March 8, 2022 at 3:59 PM
By Ryan Coleman / March 8, 2022
Comment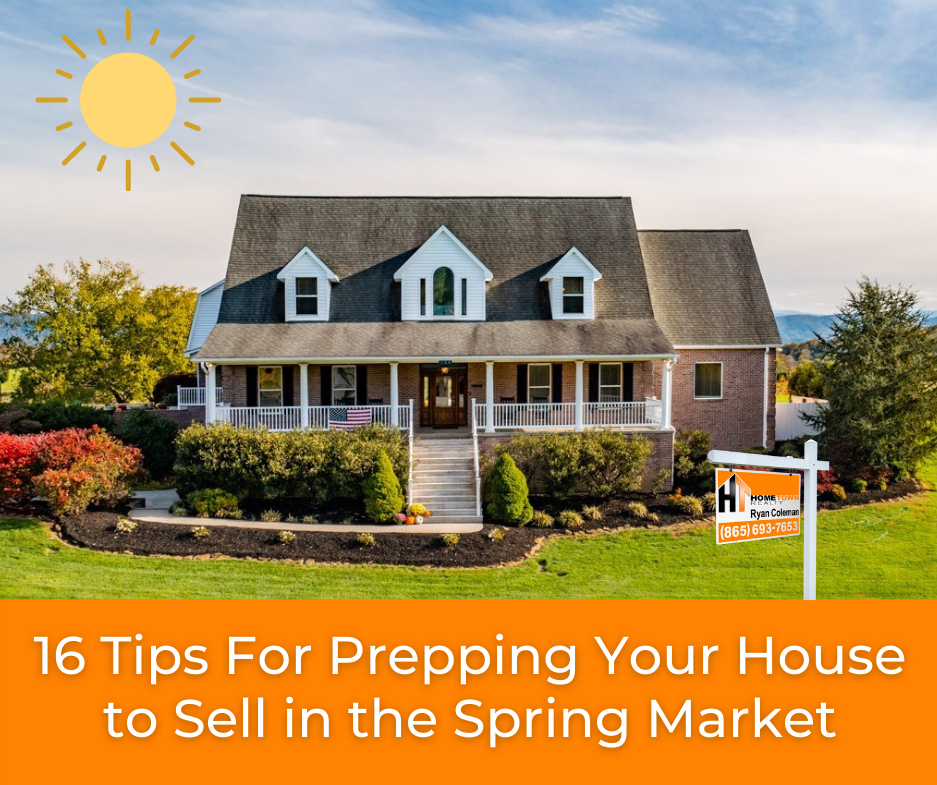 Whether you are selling your house in Knoxville, TN to move to your forever home or relocating out of state, there are some popular tips that you can follow for improving your house. Doing this will add value to your home and make it sell quicker, which means you do not have to show your house to buyers for months and months. There is a lot of information available on the internet but if you want true, up-to-date information on new listings, make sure to visit our website. Fortunately, our office also offers an exclusive guaranteed SOLD program, so if your home does not sell, we will buy it at a predetermined price if you list your property with us.
Bathroom: Buyers love bright, modern bathrooms, so bathroom remodeling should be your top priority when preparing to sell your house. Do not go for very expensive options when simple ones work just fine. Choose neutral colors and avoid going wild. Replacing the shower, vanity, and changing mirror can play a significant role in attracting buyers. Check out these ideas for somewhere to start HGTV>Bathroom Updates
Kitchen: Like the bathroom, a kitchen is a place that should be given a lot of attention. Even if you cannot do much, making small changes to make it look more presentable will go a long way. A good kitchen will instantly give a great impression of your house. Maybe you cannot afford to do a whole new kitchen but maximizing your home value while on a budget is still possible.
Master Bedroom: Investing in master bedroom will add a lot of value to your house. This is one of the main factors that people look at in determining if the house is right for them.
Closets: When you are preparing to sell your house, it is mandatory to organize the closets to maximize the space. An organized closet will automatically make the area look bigger.
Basement: An unfinished basement or one with many problems can repel buyers. It is good to change the flooring and fix any issues present there. A properly insulated basement also helps save electricity and gas bills. Try to make your basement as useful as possible.
Entertainment: Nowadays, most people usually have tight schedules, which means they have little time for entertainment. Also, due to the coronavirus pandemic, people have to spend a lot of time inside their homes. That is why having a theater room, a gaming room, or a personal bar at home will add extra value to your home and attract buyers, especially those who struggle to spend quality time with their families.
Decking: When we think of springtime, we think of spending time outdoors. It is nice to have a good deck in the house for enjoying barbeque nights and serene evenings, as it will increase the appeal of your property significantly. Make the deck look presentable. Give it a paint job and if anything needs to be replaced, make sure to replace it. Find other ideas here This Old House > 16 DIY Deck Upgrades
Front yard: The first impression is the last, and if the front yard looks dull and untidy, it will put off the buyers. Tidy it up and add flowers to give it the spring look. Let it create a good vibe for the buyers as soon as they enter to see the house.
Exterior: Improving the house's exterior will transform its overall look, which will add tremendous value to your home.
Windows: If your windows need to be replaced, do it timely which means, while you are still preparing your house to sell because it can take a lot of time to get them replaced.
Roofing: Roofing is key. If there are problems with the roofing of your house, make sure that you are not putting your home on the market before fixing all the problems. If you are on the market and inspection points out problems in your roofing, you will have to wait for the material and contractors, which means that you can lose many potential buyers.
Attic: Another thing to improve your house is to ensure proper insulation in the attic.
Flooring: Flooring makes a big difference. It can transform the look of your house. But only do it if it is actually in need of a change. Do not overspend.
Lights: It might not seem important, but adding or changing lights as well as lamps can create a big difference in improving the ambiance of your house.
Declutter: Declutter your house before you start showing it to the buyers. It will increase the space and make it look a lot more presentable.
Deep cleaning: Last but not least, deep clean your house and make it smell good. It will almost cost you nothing and will help attract buyers.
Let Us Help You!
Are you looking to buy or sell a home in Knoxville, Tennessee? Please don't hesitate to reach out to Ryan Coleman and our team at Hometown Realty as a trusted source for up to date real estate information in the East Tennessee area!
865-693-SOLD

Real Estate With Ryan
Join Ryan Coleman Broker/Owner of Hometown Realty and host of REWR every Saturday @ 11am on Talk Radio 92.3 / AM 760 WETR and at 1pm on News Talk 98.7
Be sure to download the Talk Radio and News Talk apps to listen on the go!
Talk Radio: https://apple.co/37q7lAu
News Talk: https://apple.co/3aHkXth
⁠
You can watch past live streams on other Social Media channels:⁠
YouTube: https://bit.ly/3gkhS3U
Facebook: https://bit.ly/3l67kJd
Soundcloud: https://bit.ly/32bvkC9
Apple Podcast: https://apple.co/3j7aomn
Google Podcast: https://bit.ly/3gcSXiE