Proud Sponsor of the Tennessee Volunteers!
Vol Network
As Tennessee's Realtor®, we are proud to partner with the University of Tennessee's athletic program each year. Our partnership with UT athletics is a powerful way for us to align our brand with the community pride and passion that surrounds this beloved institution. By supporting UT athletics, we demonstrate our commitment to not only providing exceptional real estate services but also investing in the success and growth of the community we serve. Overall, our partnership with the University of Tennessee's athletic program allows us to give back to the community we are proud to call home.
We love interacting with Vols fans and being a part of an awesome community! We are always doing giveaways that involve University of Tennessee merchandise. We will be giving away tickets to every home football game as well as tickets to every home basketball game for the men's and women's teams! Follow us on Facebook, Twitter, and Instagram to enter into the giveaways.
The Rick Barnes Show
As temperatures dip and the SEC basketball schedule heats up in Big Orange Country, the Rick Barnes and Kellie Harper TV Shows return this weekend, beginning a nine-week stretch of appointment-viewing Tennessee basketball highlights and exclusive insight.

Bob Kesling shares the screen with Barnes, while Mickey Dearstone returns to co-host with Harper. Barnes and Harper will appear each week to discuss their teams and preview upcoming opponents.

All shows feature closed captioning. Check local listings.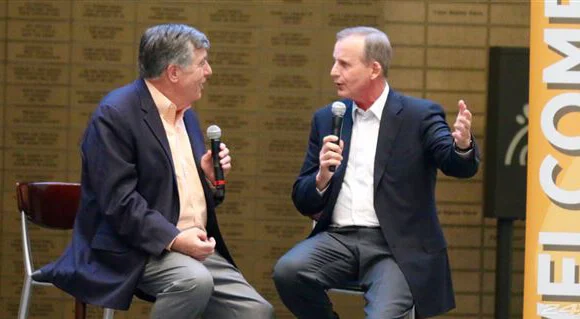 The Kellie Harper Show
During football season Big Orange Hotline on Monday nights compliments its sister Vol Network show, Vol Calls, on Wednesday nights. Fans can call in and ask questions by dialing 1 (800) 688-8657, or Tennessee Verizon customers can dial #TENN. Fans are encouraged to check their local listings for a Vol Network affiliate in their area carrying Big Orange Hotline. The show can also be heard online at UTsports.com
Show airs from 1 p.m. ET / 12 p.m. CT.

---
Exclusively offered to clients of Hometown Realty.
BEHIND-THE-SCENES. Tour the facilities behind the scenes of the Tennessee Athletics department.
VIP ACCESS. Get exclusive inside access to legendary rooms like the Peyton Manning Room.
EXCLUSIVE NEVER BEFORE SEEN. Be one of the first to get to see the inner workings at the Volunteer stadiums.
---
Knoxville TN Real Estate
Welcome to HomesAroundKnoxville.com, your one-stop source for Knoxville, TN real estate.
Use our state-of-the-art property search, including an interactive map search, to find homes for sale in Knoxville, TN. These listings are updated daily from the MLS.
Or, use our Community Guide to help you in your search for Knoxville real estate listings. Our community searches will keep you up to date with the latest properties in the areas you are interested in.
And, for your convenience, be sure to register for a free account to receive email notifications whenever new homes for sale come on the market that match your specific criteria, and save your favorite properties for quick and easy access whenever you need — it's fast, easy, automatic and FREE! With a Property Tracker account, you'll be among the first to know about the newest homes for sale in Knoxville.
Thanks for visiting HomesAroundKnoxville.com, home of exquisite properties and excellent service.